Elayanti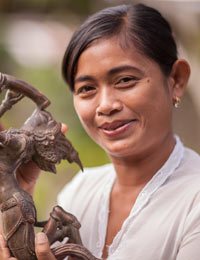 Elayanti
"My full name is Ni Ketut Elayanti, and I'm from Mas Ubud Gianyar, famous for its wood carving tradition. My father was a wood carver and he taught me a lot about culture, arts and about life. I used to work when I was a kid to help my parents and also to have more pocket money.

"Though I was the best among my classmates, I wasn't able to go to university because of my parent's financial situation. It was my dream to become a teacher, but now I realize that not all dreams should come true, and so when I finished high school I started working at an antiques store. This was great for me because I love culture and arts, so it gave me the opportunity to learn more.

"After getting married and having two children, my husband and I decided to venture on our own. We have no staff, it's just me and my husband. Most of our products are crafted from bronze, iron or wood. We purchase different items and then my husband does the last finishing to create an antique effect.

"Having children is God's greatest gift; they inspire us to find better sources of income and to worker toward their future. It is a great moment when we can share or give something useful to the people we love.

"We hope Novica can help us introduce Indonesian culture and art to people worldwide."