Sansanee Krasae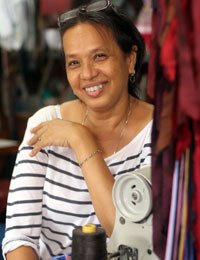 Sansanee Krasae
"My customers are happy with my work. That is enough for me."
"I joined a female band – the very first female rock band in Thailand – when I finished my vocational diploma majoring in English. We played folk songs because during my English courses I learned how to pronounce from the folk music the teacher played, which also improved my listening skills. I was happy and passionate about being a musician, but I only did it for one year. I still play but only as a hobby, and the cello is my favorite instrument.

"My family is from Bangkok but I was born in Phuket because my parents were living there at the time. When I was about 6 years old we moved back to Bangkok. When I left the band I studied at an open university, which taught me a lot about myself too, for it requires much discipline and responsibility. Another advantage is the amount of free time, which allowed me to find work and have an income. I had the opportunity to work in pleasant jobs like organizing a cosmetics showcase exhibition in department stores, assisting a TV actor, and working as an advertising assistant.

"One day I went to Chiang Mai, where I met Chaloemphon, a Novica featured artisan, and we eventually married. I also fell in love with Chiang Mai because the weather is good, it is the land of ancient cultures, and also the center of Thai handcrafts. We started selling heavy leather styles which my husband made. I still remember the first day we started to sell, and a customer wanted the belt my husband was wearing, which he had also made. We made over 1000 Baht that day and now, 26 years later, we still have the 1000 Baht note framed in our workshop.

"Initially my husband was to work on his own, and I was supposed to find another job in case of financial constraints. However my husband had limited English and he needed my help, so I took some leather work courses and used everything I knew from my different work experience to assist him.

"We realized we needed to venture in designing and crafting other products, and I found out that Chiang Mai is also a source of fine fabrics that can be used to create a lot of products. I began to craft leather bags combined with different fabrics like tribal embroideries and traditional striped silk. I liked the end result, and we started getting many orders. We wanted to offer quality products, so we accepted orders as long as we could guarantee high quality.

"Many people used to ask me why didn't I look for a proper job since I have plenty of work experience. I always answer that I do have a job which I'm happy to be doing every day. I like talking with clients, and working on their orders. Sometimes I also help them with fabric details like how to choose the right one. My customers are happy with my work. That is enough for me.

"I would like thank Pikmi, a friend of my husband who owns a leather factory. He taught me, free of charge, about designing, cutting leather and fabric, and about advanced stitching. I rely on his teachings even to this day. Thank you all for your interest and for supporting my work."