Diana Dewi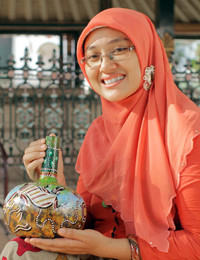 Diana Dewi
"It doesn't matter how big or difficult the challenge is, what matters is how we face it, take care of it, get up, and survive."
"I was born in Banjarnegoro, a plateau in Central Java with awesome scenery that includes villages, farms, and craters. My parents were elementary school teachers who cared for me and loved me. I left my parents' home to go to high school and then when I went to the university in Jogjakarta. There, I found a new way of thinking, a new community, and a new activity that led me to a world that I really love — handcrafts.

"I'm a married woman and we have three daughters. When my third daughter was born, my husband had a big problem with his business, so I began to work to contribute to the family's finances. This was around October 2011, and I had no capital. But I was determined, even if all I had were my skills.

"I was looking for shoppers who appreciate handcrafts, and I thought an online business would be ideal so I could work from home. As a mother, I'm busy with my children. I only worked after all my children were asleep, or in the middle of the night. I finished my work when my children woke up.

"Not much came out of that job, but it was a good start for me because I got to know many craftspeople, carpenters, batik artisans, and great artists. I fell in love with them — I even forgot the problems I faced.

"I believe there is no such thing as 'coincidence.' Difficulties are just a way of finding happiness. It doesn't matter how big or tough the challenge is, what matters is how we face it, take care of it, get up, and survive.

"In 2012, I was recruiting people from my community. They are my neighbors. Some of them are older mothers who don't have many activities, and some are part-time batik artists, painters, and craftspeople. I now supply shops in Jakarta as my little project starts to grow.

"I craft some of our work, but now I mainly design new items. Today, my goal is no longer just about money, but also about world recognition for my work. I try many different designs and also always improve quality so our decor accents will look special and unique.

"The materials I use are wood, natural rubber, metals, and paints. Our designs are crafted with traditional tools and processes. Most of my them are inspired by our culture, like batik motifs, puppets, and classic shapes or figurines that are representative of the rich culture of Jogjakarta.

"I hope you can help me have our work and our culture recognized worldwide."