Priti Parikh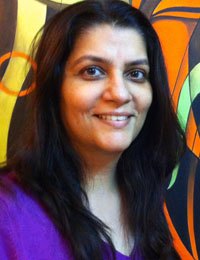 Priti Parikh
"I love working with bright colors as they signify a happy and cheerful mood. To me, life is very beautiful and filled with color."
"My philosophy of life is not to carry your problems on your head as their weight will crush you. If you put them under your feet, they will serve like stairs and help you to succeed.

"Hello, I'm Priti Parikh from the beautiful city of Indore in Madhya Pradesh, though I am basically a Gujarati born and raised. However I moved to Indore when I got married.

"I've been painting since childhood, and my father gave me as a gift my very first canvas and color kit when I was only 14 years old. I used to copy the paintings by renowned masters and gift them to my relatives and friends. Ever since then I've admired the work of great Indian artists like N. S. Bendre and M. F. Hussain. As a child I dreamed of becoming an artist like them when I grew up. I liked their paintings and the bright colors they used.

"I've never taken formal courses in art, in fact I am a commerce graduate, so you could say that I am a self taught artist. I have always had a keen interest in art, and I've become inseparable from it. After my marriage I became busy with my children but seeing my interest in art, my husband really encouraged me to continue painting and this is when I decided to take this art as a profession in 2003.

"I met some leading art dealers in India who appreciated my work, and they suggested I focus on my own original work. This is how I started painting my own original compositions and discontinued reproducing paintings from other artists. I paint realistic and semi-realistic Indian figurative subjects. Since then, I have been fortunate enough to participate in many group shows both in India and abroad and my paintings have been appreciated by many art lovers, and are part of private collections too.

"Since I am a religious person and very fond of Rajasthan and Gujarat culture, all my paintings are based on Indian deities like Ganesha, Shiva, Radha, Krishna, Buddha etc. I portray them in modern form in a realistic and semi-realistic style. I love working with bright colors as they signify a happy and cheerful mood. To me, life is very beautiful and filled with color. I don't like destruction so I refrain from such subjects.

"Apart from painting on canvas, I also transfer my paintings to leather bags and purses. Actually, my inspiration for this came about very recently. I saw some beautiful floral printed leather bags and I thought to myself, 'what if I incorporate my paintings into beautiful leather bags?' The idea was great! So I got in touch with some leather bag manufacturers and shared with them my ideas, which they liked. So, I started giving them my designs and my original paintings and the finished products were great. I love them!"