Renu Jaiswal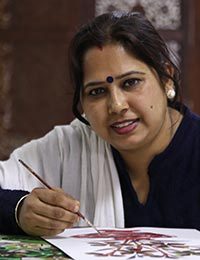 Renu Jaiswal
"Nature fascinates me and most of my work deals with nature themes."
"I think perhaps I was destined for the field of art. I was born and brought up in Delhi. As a child, I was very creative. Whenever I had free time, I would do something like stitching or painting, and I loved it.

"When I grew up, I decided to go into fashion design. Then I married Sunil Jaiswal, a Novica featured painter who also runs a fine art institute. I was amazed at the wonderful work he did, and this quality in him definitely won my heart. I would watch him work and eventually, I decided to learn from him. He is my guide and teacher, and you will find some similarities in our work because I am so greatly inspired by him.

"Nature fascinates me and most of my work deals with nature themes like cosmic landscapes and floral portraits. My imagination also plays an important role. Every time I start working on something, I let my imagination run freely and this is how I create my paintings. I also add different types of textures to my backgrounds.

"I am always learning something new and this whole experience is so beautiful! I hope someday I'll reach the height of perfection. I have participated in several group and solo exhibitions along with other students from the institute. The appreciation my work receives is overwhelming, and this keeps me going forward to learn and do more in life.

"When not painting, I love listening to Indian classical music, as it gives me a complete peace of mind."