Mario Chavez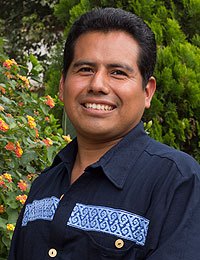 Mario Chavez
"One day I looked around and I could see we were surrounded by art, but people didn't value it enough and poverty was settling into our community."
Update (July, 2019)

"In the year 2002, I began to export my pieces with the help of NOVICA. I always wanted to strengthen the Zapotec culture that I was born in.

"Before, exporting pieces to foreign countries did not occur to me. Today, it is a reality. With the help of each member of the NOVICA team, I managed to create more designs. Their advice to create pieces and more combinations of colors has been a great support.

"My sales have grown little by little, giving us the opportunity to empower people who are interested in learning this craft. It is important that I convey to my family knowledge about our culture, which has been passed down by our parents.

"NOVICA has given me the opportunity to realize my vision and create better quality pieces that are more striking and full of color, tradition, and the essence of our beautiful customs. We have produced more textiles, allowing us to gradually increase our production. We are on track.

"One of the greatest challenges was learning to pay more attention to the quality of each one of our pieces. I am very happy to be working with a company that is so nice and conscious about conserving the art of our country.

"I want to continue trying forms and colors that allow me to grow, adding my contribution to preserving this tradition, which I literally carry in my veins. Thank you very much for the great support and direction."

Original Artisan Story

"My name is Mario Chávez Gutiérrez, and according to legend, the Lord of the Universe descended in the village where I was born. His mission was to make art flourish in the region, and let the loom recreate the beauty of the universe. That's why I called my workshop Teotl-Tlan, because in the Náhuatl language it means "House of God."

"I come from a family of weavers – it is a legacy I inherited from my great-grandfather. Nowadays, my designs in wool are innovative, somewhat different from those of my great-grandfather. One day I looked around and I could see we were surrounded by art, but people didn't value it enough and poverty was settling into our community. I realized we had everything at our disposal, we just didn't know how to make good use of it. So I decided to try new and different things. I changed patterns and played with colors. My aim was to preserve and promote the beauty of the Zapotec art.

"The process starts with the wool – we shear the sheep twice a year. Then it's washed and carded by the women. We dye it with natural colorants such as cochineal, walnut tree bark and local flowers. We thread the wool on the pedal looms and commence weaving, a process which can take anywhere between one day to a whole month, depending on the design. To finish, we roll up the loose threads and tie them into knots. Finally, we check the rug to make sure it is of good quality and has no imperfections.

"I want to give a present made with my hands to the world, as a gift from Teotl-Tlan."