Mishelle Ramos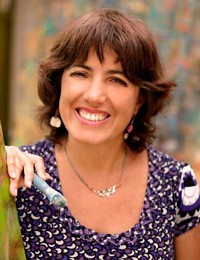 Mishelle Ramos
She seeks to communicate her reality through her work and the beauty of human sentiment through colors.
Mishelle Ramos de los Santos is an acclaimed artist who has exhibited her work throughout Peru as well as in Argentina, Uruguay, Brazil, Germany, Italy, and Venezuela. Born in 1966, Mishelle studied in Peru's Fine Arts School. She describes her family as being "very sensitive to the arts," while her mother used to restore classic works.

She's been playing piano ever since she was nine years old. Painting had always been a part of her but wasn't her first choice to study professionally. She intended to study Ecology but didn't pass the entrance exam. Not one for giving up, she intended to present the exam again. While preparing, her parents suggested she also apply to the Fine Arts School, for they could recognize their daughter's talents. Mishelle realized her parents were right, and she could reach a comprise – she could paint ecological themes.

In 1986 she sold her very first painting and she was ecstatic, for it was well known that it was practically impossible for a buyer to be interested in the work of an art student. This made her proud and made her realize how painting was indeed her true calling.

Mishelle's paintings stand out for their unique style, which is very personal and different to her fellow artists. During her studies, she was at constant odds with her teachers who demanded she follow more mainstream styles. She rebelled against this but in the end, she had to comply, only for as long as it took to graduate. Once out of school she felt an immense feeling of freedom, because she could finally paint what was in her heart, and in her unique style.

Mishelle believes expression is an exercise while art is the artist's reflection; in this way, Mishelle describes her work as thoroughly expressive - rich in color and tracery. She has been wholly dedicated to painting since 1985, moved by a desire to express herself, her mission and her passion. She seeks to communicate her reality through her work and the beauty of human sentiment through colors.

The greatest challenge she has had to meet is to pursue her career while at the same time being a devoted mother to her daughter - her constant traveling and the different realities she has encountered. Another challenge she has met is the search for her own self, to be honest within her work and teachings.