David Fernandez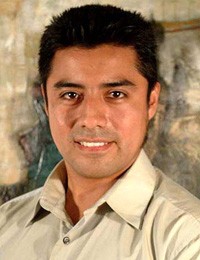 David Fernandez
"Live with art, for art and forever with art."
David Williams Fernández Rivera was born in 1969. He cultivated his art from childhood, watching his mother spend hours and hours in fashion design. This awakened his love for drawing. By the time he was eight, his parents began to worry because he preferred art to playing with other children. At the age of 13, he was admitted as a student at the Lima Art Museum where he studied drawing and painting, and in 2003 he graduated from the Escuela Nacional de Bellas Artes del Perú with a specialty in painting and honorable mention in drawing.

Fernández describes his work as the most beautiful art in the world. He strives to transmit the fertile aspect of life, and prefers oils on canvas.

He is married, with two children, ages five and nine. Both show a talent for drawing and painting, and the older child has won prizes, which makes Fernández very proud. He is excited at being able to share his techniques with them and urges them to devote themselves to art with passion, just as he does. His wife is also an artist and she helps him teach their children.

His greatest challenge has been to develop his personal, professional and family life at the same time. He enjoys the poetry of Blanca Varela and loves music – especially jazz. Fernández has exhibited his work throughout Peru as well as in international exhibitions. He has been awarded a number of prizes and distinctions for his work.

"Live with art, for art and forever with art," he urges.