Abdul Karim Star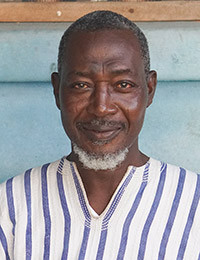 Abdul Karim Star
"I was accused of smuggling museum pieces [and] detained… until inspectors… went to the workshop… They realized I had made the pieces…."
"My name is Abdul Karim Star, and I was born in the northern region of Ghana in 1966. Unfortunately, when I was four years old my parents divorced and my father decided to send me to Accra. I stayed with my uncle, called Mahama Wamzah who performed ritual circumcisions as well as being a beautician. Initially, I stayed with my uncle roaming the streets of Ayalolo until, one day, my uncle sent me to the Ayalolo Timber market school in 1973 where I begun my education.

"During my eighth year with my uncle, I realized that schooling was becoming difficult for me, both financially and intellectually. I often had to stay home from school because my uncle could not afford the tuition. During one of these long absences from school, I made the decision to help my uncle by looking for a job. One morning, while walking aimlessly around our neighborhood, a man I later got to know as Mustapha, called out to me and asked me to buy him food and some wood sanding discs for his job. When I returned, he wanted to pay for my services. I politely and humbly declined the gift, but on his insistence, I accepted a plate of cooked rice and beans. His show of love and appreciation endeared him to me, to the extent that I became his errand boy. With time, a friendship developed and I became fascinated with his craft – he was a wood carver.

"I regarded Mustapha as a very interesting man and believed this transcended into his art. I eventually joined his group of trainees, which required leaving my uncle's house when I was 18 years old. Mustapha trained us well in every area of the woodcarving realm and eventually I became a carver in my own right, working for Mustapha.

"I was soon selling my own pieces and had established an appreciative clientele, but competition was tough. Two of my competitors framed me on route to Nigeria and I was accused of smuggling museum pieces. I was detained for six hours, until inspectors sent by the Ghanaian Consulate went to the workshop and saw myriad objects at various stages of completion. They realized I had made the pieces and I was released. This experience made more determined to pursue and establish other venues through which to sell our wares. Luck began to smile on me and my clientele grew, both nationally and internationally. It gave me the opportunity to exhibit my work in Nigeria, Burkina Faso, Togo, Mali and the Ivory Coast.

"When I start to work on a piece, I become more creative and it feels as if I am in a different world where the personal challenges I have no longer exist. I have realized that my imagination goes wild.

"I get the ideas for the items I carve by focusing my eyes on a plain surface for a period of time and I begin to see images of designs. I quickly sketch these designs and make time to try out the designs I have sketched. I work with leather, recycled glass beads and sese wood. I have recently started crafting leather jewelry boxes.

"My dream for the future is to establish an art academy to train people to continue in the carve items as well as African culture. I have trained about 30 people since I started working on my own in 1984. But then I hope to train hundreds of people if this dream comes true.

"Now I train apprentices. My work has enabled me to support my parents, my brother and sisters."