Abubakari Alhassan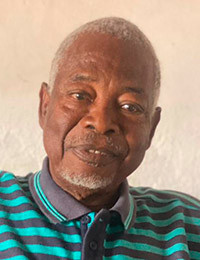 Abubakari Alhassan
"My interest in the arts and carvings started at a very tender age, as I was fascinated by pieces of wood and calabashes."
The artistry of Abubakari Alhassan has been featured in Natural Health magazine.

"My name is Abubakari Alhassan. I was born in western Ghana in the year 1944. My interest in the arts and carvings started at a very tender age, as I was fascinated by pieces of wood and calabashes. It is no wonder that I was attracted to the carving profession through a very good friend of mine called Frank Sinatra, a professional and well-known carver.

"Because of the strict work ethics of 'do it best the first time,' my carving tutor never graduated any of his students until he was sure that he was sending out a good carver. For this reason, I spent five years under his tutelage. Having graduated from Frank Sinatra's workshop, I started carving on my own around the same area as my former boss. With a little capital, I moved to a large city in search of greener pastures in 1972 and settled behind the Publics Works Department. Just as my trade started flourishing, I arrived at work one morning and realized that the City Council had demolished my workshop and my wares were scattered in the debris. I managed to salvage some of them and it took about a week to reestablish my workshop at another, more visible location.

"Not long after, I again fell into the hands of the lawmakers. My workshop was again demolished by the government for a road project. I finally moved deep into the city and found a place near the town's art center where I built a small workshop. With the passing of time, the entire area within which I built my shop was approved by the government to be consolidated as part of the art center. I found out that many tourists developed much interest in my carvings and other handiworks. With good planning, I started saving little monies from my daily sales towards expanding my workshop into a registered company. Thank God, everything worked out as planned. I expanded my shop and have trained to date about 100 people, who are now self-employed. As a result of my numerous customers around the world, I was privileged to attend various exhibitions, some on invitation by my customers.

"My first arts and crafts exhibition was at the Ghana International Trade Fair in 1982. Other exhibitions, totaling about thirty, followed one after the other, some of which are:
Washington in Detroit Cobol Art Hall in 1995, 1996 1999 and 2000
Germany in Western Berlin, Meson Art Hall in 2000 and 2001
"I was also invited to two exhibitions in Burkina Faso dubbed 'Show Fair' in 1998 and 2000.

"The experiences I gained from these fairs coupled with the strict tuition I had from my trainer, Mr. Frank Sinatra, show and differentiate my products from the other artisans. I am sure I am on the right path to progress and continually hope to teach other people who are interested in the arts, the portion of my God given talents. I am eager to leave a mark in the African arts through my handiworks.

"I am at the moment being assisted by my son and brother, Mohammed and Ishmaila respectively, and Tina, my secretary."