Samuel Okyere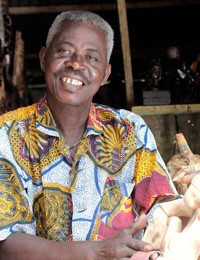 Samuel Okyere
"I realized I could do much better things with my life, so I decided to go into arts…."
Update (August, 2019)

"I have been doing art for 26 years--I have progressed from a carver and finisher to metal work and making drums, through NOVICA. I love to sketch, so I create my own designs. Sometimes through dreams I get ideas or inspiration. I learned a great lesson in life, that is not to depend on anyone; and to be disciplined, which has helped my personal life.

"I have to take care of my nephew and niece, because my elder sister passed on. I used to own a cocoa plantation in the Central region. I learned how to farm from my grandmother, who was also a farmer. After the trees in the farm were grown, there isn't much to do except when it yields twice a year. I needed extra resources to help support my nephew and niece. This led me into going into art. I realized not a lot of people were into carving, so I decided to buy carving tools and started with sanding and polishing.

"My major challenge is the ability to meet timelines with production, but frankly speaking, NOVICA has been very helpful in marketing my art and I have made up my mind to focus all my attention on NOVICA to give it my utmost best."

Original Artisan Story

"I was born on February 16, 1951 at Aburi-Akwapim. I attended the Methodist Primary School, also at Aburi, and then furthered my studies up at the Nsawam LA Middle School in 1965. I then enrolled at the Accra Workers College in 1972 for six years of Commerce, Accounting, Economics, Geography, and other General Arts.

"Before then I was working with Ghana Standard Chartered Bank as a messenger. But I realized I could do much better things with my life, so I decided to go into the arts, especially carving. I decided to go into carving in 1981. I did not really undergo any actual training, but started carving bit by bit and sometimes sought help from my other colleagues. I sometimes served as a helping hand to some of my colleagues around when they had a heavy workload upon them. Through this, my interest in arts - and especially carving - was generated. However, through this minor assistance that I received, I became very skilled in carving. I then decided to settle for full time carving and depend solely on my own ideas to carve.

"I have three men who I'm currently training, and sometimes I have workers who I pay on a part time basis."